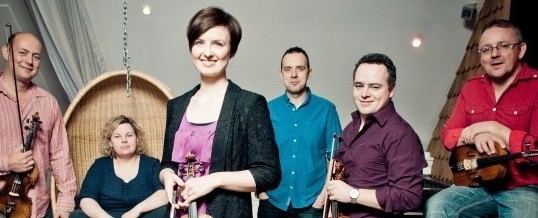 Once again the organisers of Colonsay's 8th Folk Festival have been lucky to attract some of the top names in Scottish Traditional music to the festival. Jointly topping the bill are the legendary Blazin' Fiddles and internationally acclaimed Breabach.
The incredibly busy Kris Drever will be making his 4th appearance at the festival, this time with fellow guitar virtuoso Ian Carr; (Previously with John McCusker and Roddy Woomble, Megan Henderson and Eamonn Coyne and as part of the unforgettable LAU).
Also appearing are the astounding Jenn Butterworth and Laura-Beth Salter, guitar, mandolin and beautiful singing and stalwarts of the folk scene Ian Walker and Ian Bruce.
The younger generation are well represented by the award winning Mischa MacPherson Trio (Radio 2 young folk singer of the year 2014), Canach –featuring Caitlin McNeill from Colonsay and newcomers Ross Hull and Cameron Grant.
Local singer-songwriter Donald MacNeill will be showcasing his new album, a collaboration with Sardinian multi-instrumentalist and producer Roberto Diana who will also be playing a solo concert.
As always there will be a locals' concert, featuring among many the Machrins McNeills, lunchtime and late night sessions and a ceilidh with the Jen MacNeill ceilidh Band.
The festival runs from Thursday 17th September to Sunday 20thand is held in the village hall and the local hotel. A great chance to meet local Colonsay people, sample local Colonsay Ale and bask in the (almost) guaranteed autumn sunshine. While the formal concerts are invariably sublime, the late night pub sessions are almost as good. Punters and professionals can be found mingling in the hotel with at least three sessions (and possibly three pints) running concurrently.
Tickets can be obtained from ceolkeith@yahoo.co.uk or by contacting Donald (Pedie) on 01951200157. www.ceolcholasa.co.uk
Share