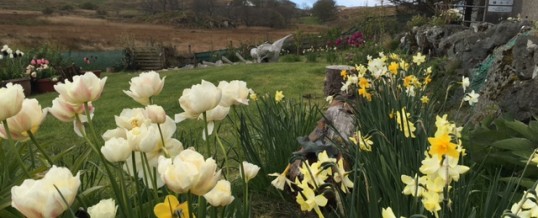 Eastertide and the island throws off its Winter weeds, welcomes regular and new visitors, and sees the year's first flush of social sporting events, set of course in the context of its religious festival.  For the outdoor events the weather was seasonally mixed, with showers on Saturday giving way, before the weekend ended, to a flourish of warm sun, well suited for basking.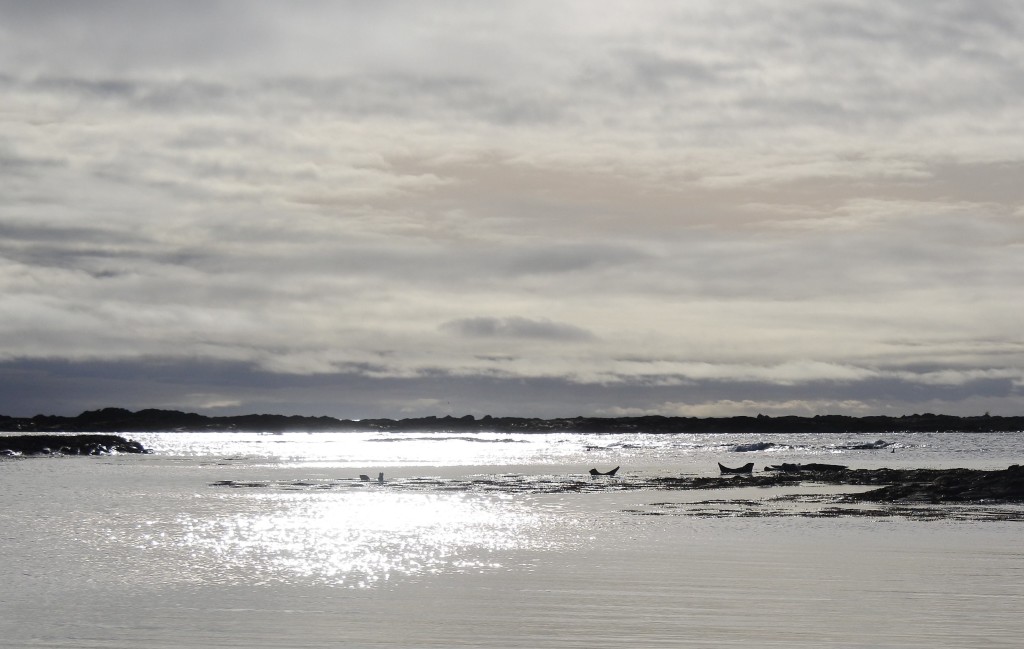 Seals Basking at Ardskenish on Easter Sunday
The Colonsay & Oronsay Heritage Trust newly homed in the Baptist Church has re-opened its doors informally, with a grand opening to be scheduled.  Look for a full article on the Trust's new home in a future Corncrake.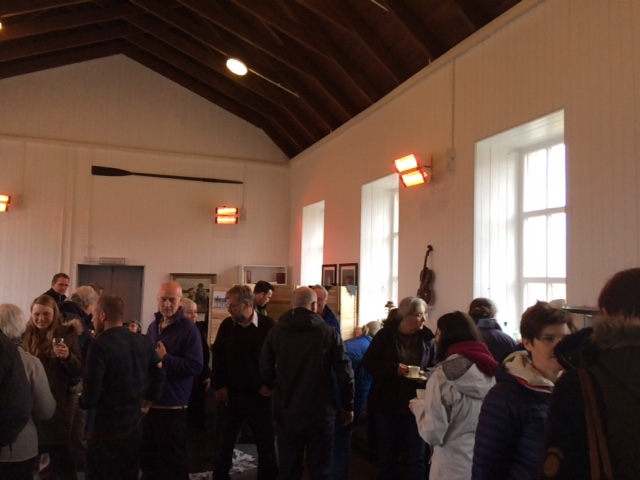 Informal opening of Colonsay & Oronasay Heritage Trust's new home at Colonsay Baptist Church
Colonsay and Oronsay Gun Club held their annual Easter Shoot on the Saturday 15th April.  Blustery April showers made for challenging conditions for the shooters, though spirits kept high amongst the modestly numbered but able and experienced party, and prizes were well spread:
Angus & Ella McFadyen Memorial Cup to Donald MacAllister
David Clark Cup to David Binnie
Morag Paris Basket to Donald MacAllister
Championship cup to Chris Nisbet

Milican Cup to Chris Nisbet

Hester McAllister Cup ( Double Rise ) to Donald MacAllister

Alasdair MCNeill Memorial cup ( Aggregate ) to David Binnie

Ladies Cup to Kirsty MacAllister

Boys Cup to Ewan McFadyen

Visitors Cup to Freddy Onn.

The event was sponsored by the Colonsay Brewery & Wild Island Botanic Gin.   The second shoot of the year is traditionally in September, though this year's date has yet to be confirmed.  Watch the Corncrake for news.
Colonsay Gun Club's Easter Shoot
The Easter Day service at the Church of Scotland in Scalasaig was led by Rev Mitchell Bunting with a good-sized, adult congregation, sadly bereft of bairns, as explained by Alastair Scouller in his excellent piece "Chocolate Eggs in Church".  Perhaps the children were at the Hotel where an Easter Egg hunt was reportedly in full spate.
The Colonsay Golf Club Easter "double-header" was reduced to a single round on Monday morning, when David Binnie led off the first of two teams in a "Texas Scramble".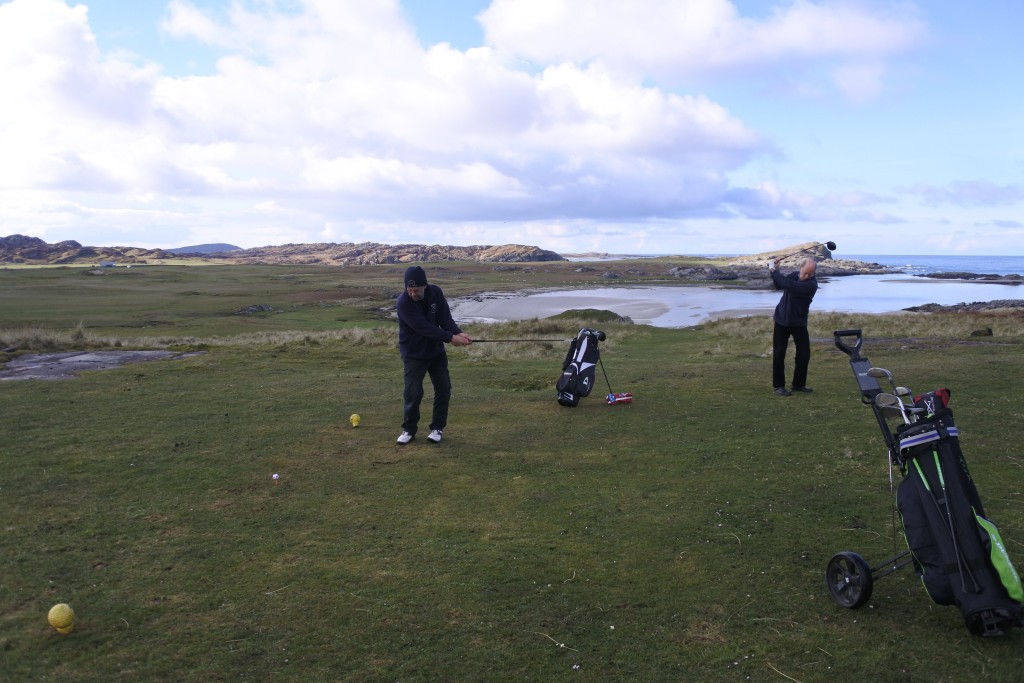 David Binnie preparing to tee-off to start Colonsay Golf Club's Easter event
For those, likely the vast majority, uninitiated in the dark arts of golfing lore, a "Texas Scramble" is not some form of Trump-era political scrimmage, but rather a format where players in a team each play a shot, and the best shot is taken as the starting point for the whole team for the next shot.  With this pattern repeated hole by hole, a team has a shared score for each hole and the round.  If the reader is confused and still interested, a more intelligent and intelligible explanation can be found here: http://www.golf-monthly.co.uk/features/the-game/texas-scramble-64802 . 
The result of this Easter "Classic" was that the first team (Messrs: Binnie, McAlistair, Emslie) beat the second team (Messrs; Hutton, Bell & Buttrick) by one shot, with Derek Emslie taking the prize for the nearest shot to the pin on the short 17th hole.  There are regular, informal golf gathering on Sundays at 10am and an even more informal gathering on Wednesday around 5pm, with green fees of £5 per round or the remarkably good value annual membership at £30.  The annual Colonsay Open takes place on the third Saturday in August, which this year falls on August 19th.
Where would Spring be without a first blush of flowers and blossom?  In the Colonsay Community Garden the hard work of loyal volunteers is showing a real return on their investment.  Here is a brief update on progress from Jan Binnie, with more to follow in a future Corncrake.
"The garden is now well established and maturing nicely as we approach its fourth anniversary. The shelter-belt is now functioning well to reduce the worst impacts of the westerly winds. The spring bulbs in free standing tubs have been a glorious success and hopefully will still be in full bloom for the Book Festival at the end of April. Some of the beds have struggled to flourish, mostly due to water-logging and so we have made modifications to the designs and plantings to accommodate our site.
We now have a mini orchard thanks to the generosity of a grant from the Tree Council's Orchard Windfall Fund. We joined the children with their apple tree planting sessions in the autumn and now look forward to seeing the bearing fruit in the years to come.  If you are down by the hall do come and have a look around the garden, or come and join us at our Saturday morning gardening sessions; look out for notices at the shop."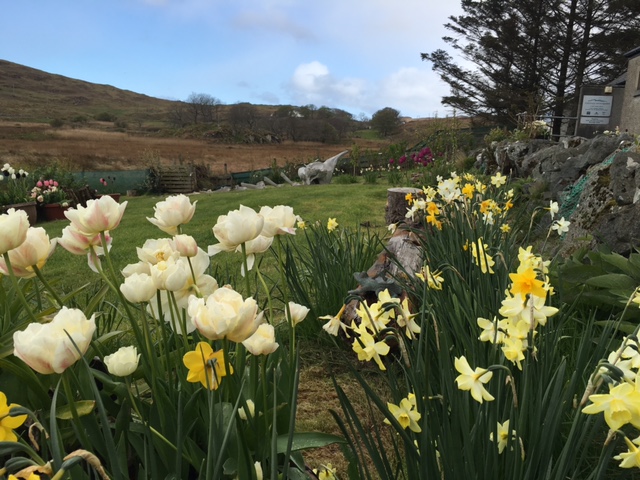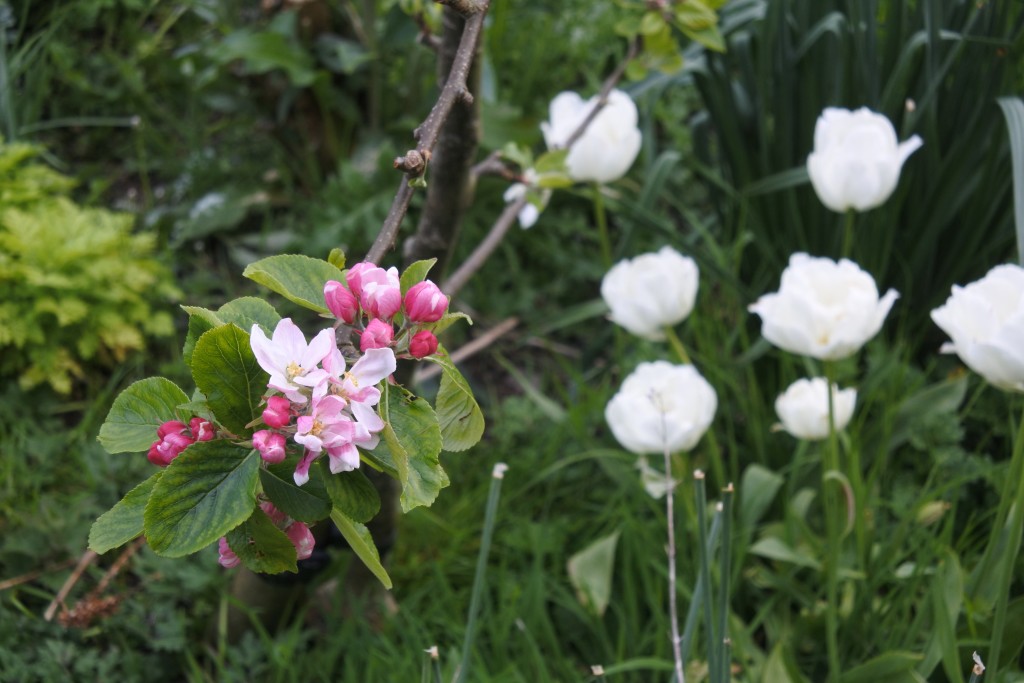 Colonsay Community Garden showing off its Spring bounty
Share