On the morning of July 2nd, flowers were placed at the memorial at Leum a' Bhriair on behalf of all Colonsay residents and in remembrance of over 800 souls whose lives were cut short by the tragic loss of that ship.  It was a moment of solidarity with friends throughout UK, Germany and Italy, particularly with the good folk of Borgo val di Taro, who so kindly granted honorary citizenship to all residents of Colonsay to cement our relationship.
The ship sank 75 miles offshore at 07.20hrs and at 09.30hrs a Short Sunderland dropped limited emergency equipment.  The sea was bitterly cold and was covered in a thick layer of heavy engine oil, yet 868 persons managed to survive until 13.00hrs when HMCS St. Laurent arrived to begin a rescue operation.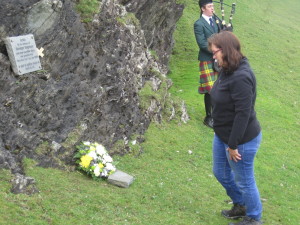 The wreath was placed by Sheena Nisbet as Chair of Colonsay Community Council and we were fortunate in that piper Lewis Nisbet was able to be present and played the lament.  Brief prayers included the De Profundis and the company remembered all those, worldwide, who are affected by random acts of disaster, terrorism or plain misfortune.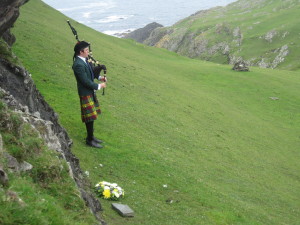 Share