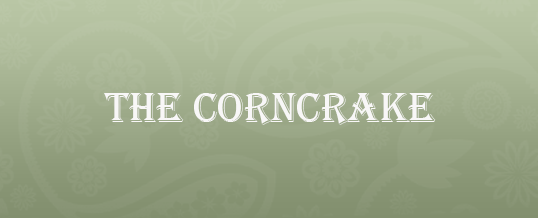 Keir and Grace were married in a humanist ceremony at Colonsay Hotel on Saturday 21st February, in a very moving rite conducted by Annie Loughlin, celebrant.  The bride was given away by her father, Angus MacPhee, and was accompanied by a plentiful and very lovely band of maids of honour.  Your correspondent is unskilled in these matters, but the bridal gown was jolly nice and had a (fishtail?) train, and the maids were in very fetching blue dresses.  The room had been decorated with white silken hangings and discreet chains of starlight, and was entered through a decorated archway of interlaced hazel, made by Rob Moss.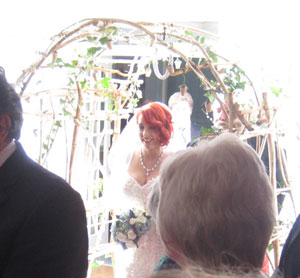 The reception was in the Village Hall, opening with champagne toasts and brief but well-delivered speeches.  Angus was as humorous as ever, but made a particular point of paying tribute to Keith and Shirley for all their support to the young family; Keir was very good to remember all those he should be thanking, and did not forget his parents, and Best Man Donald MacAllister had a tale of daring-do that must have startled the Groom both at the time and again on the night.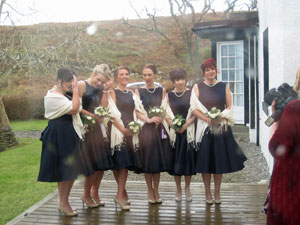 Speeches were followed by a sumptuous wedding breakfast prepared by Sarah Moss and with refreshments organised by Gavin Clark.  Caitlin McNeill and her band, Canach,  provided live music and were indefatigable – the range and quality of their repertoire was simply splendid.  A great time was had by all, included those who partied on beyond the wee sma' hours.  Sunday was only a little quieter, and the festivities were slightly extended by the cancellation of Monday's ferry.  Nobody minded and all who needed to go were able to leave on Tuesday when Hebridean Airways laid on additional flights.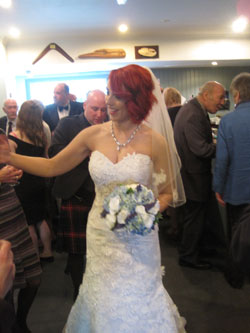 Share