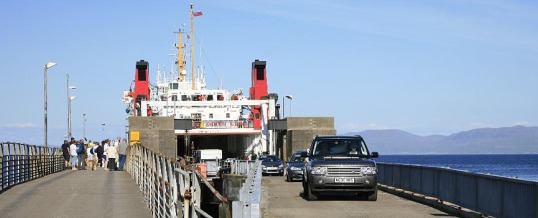 At a recent meeting with CalMac, some islanders expressed concern about the reliability of the connection with Islay, which is scheduled for both Wednesdays and Saturdays.  Not to beat about the bush, it seems to be unreliable, to the extent that contractors and suppliers from Islay hesitate to use the service in case they get marooned in Colonsay, and Colonsay folk hesitate to use it on a round trip to Oban or for travel from Oban in case it does not run, is late or they get marooned in Islay.   Already, holiday accommodation operators have had to abandon plans for a Saturday changeover option.

Information at the meeting was not very detailed, but subsequent enquiries produced interesting results.  The acting editor cannot claim credit for this information, but having received it is happy to share, since it does put the issue in perspective.  It concerns the period between 7 February and 15 April 2015, when we can safely ignore 37 occasions when the vessel on a Colonsay leg was up to 15 minutes late in arriving.  There were 23 occasions when it was late by between 15 minutes and an hour, a delay which is more noticeable, and 10 occasions when the delay was greater than one hour.  More to the point, there were 32 cancelled sailings, 4 diverted sailings, and 2 returned to port.  Attempts to mitigate the problems did however give rise to 6 untimetabled additional sailings.

Of course, this was a particularly bad period and it was exacerbated in part by mechanical problems.  Yet it does highlight the fact that with no standby vessel any breakdown must cause serious disruption and, sadly, it does seem to confirm local opinion that at times of difficulty the island whose service is least highly prioritised is Colonsay.  To be fair, a service provision for hundreds of people does provide a greater good than a service for a mere handful; conversely, the expense, inconvenience and distress caused to each individual is no less in respect of our route than any other.  Because of its location, Colonsay is always prone to disruptions due to bad weather, so it is to be hoped that in the case of technical disruptions the fleet management will bear this in mind.  The Colonsay service is already fragile; it must be tempting in a time of difficulty to reallocate craft to appease the influential folk in Mull or Islay but the terms of the EC funding provision insist that the service provision be evenhanded.
Share