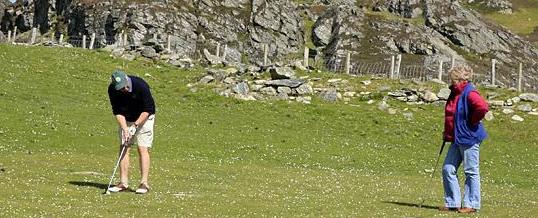 The club visited the Machrie GC in Islay on 12 June 2015
A group of golfers (Dr Dave , Judge Derek , Prof Neil , Donald Roofless Ross , Steven Dunblane , Davie Blue , caddy Scott and WAGS Dilly and Moira all travelled by ferry and plane to Islay for the second annual Machrie event.
Pre competition drinks were had in the Lochside on Thursday evening where attempts were made to have clear heads for the 18 holes on Friday.
The competition on Friday was blessed with fine weather as the golfers got to grips with the new layout of the course which had been subject to major alterations.
Many balls were hit, lost or floated away in the burns but eventually after four exhausting hours a victor emerged.  The winner of the Stableford competition after a recount was Steven, with Derek runner up and Neil third.
The winners were presented with their prizes at the evening meal in the Bowmore Hotel and the festivities ended in the bar where the cheapest malts were consumed. Same time next year so book now to avoid disappointment.
P S The WAGS shopped and enjoyed the sights of Islay.
P P S Colonsay Open 15 August 2015
Share