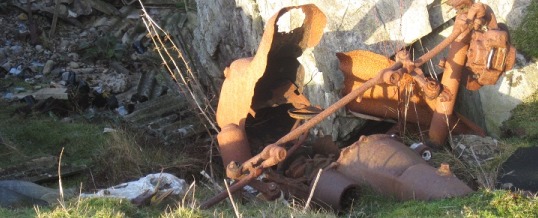 This campaign is now entering its third year and has been incredibly successful.  The initial task was almost overwhelming, but it was much easier in the second year and it is hoped that 2015 will be easier again, so that more time can be devoted to specific problem areas.  The project is based upon a five-year plan, aimed at ensuring recognition for Colonsay as being environmentally outstanding.
The initial list of "problems" is being steadily whittled away.  Obviously the wind-blown detritus of generations had to be removed from the machair, bracken and bog that fringes the coast, a task that was accomplished in the first year.  Subsequently large and awkward items were identified and removed, ranging from lorry wheels through mooring ropes and fishing nets to domestic waste from pre-binlorry days (corrugated iron, cookers, fireplaces etc).   During December 2014, a huge quantity of plastic was removed from the bed of Abhuinn a' Mhuillinn at Kiloran Bay, also a giant tar-encrusted mooring rope from beside the Dog-pool and an enormous fishing net from Rubha an Dearg Sgeir, Garvard.
In 2015, it is might be good to undertake one of the biggest projects of all, if there is any support.  The idea is to gather up all the scattered but fairly manageable old machinery parts from Rubha Aird Alanais and add that material to the much larger assemblage in the gully below the Coastguard Lookout hut (which contains asbestos sheeting, old brake linings etc.).  It should then be possible to cover the entire thing with a layer of sand (and maybe some dung) so that it can become grassed over.  If this were to happen, it would need the help of some competent person with a tractor and bucket to volunteer – one good day's work would do for the heavy work, then the sand could be added later.  Maybe it could be a joint enterprise by the Young Farmers?
Such dumps as these arose from necessity, not because anybody wanted to trash the island but because at the time it was by far the best solution available.  Nowadays we have the facilities and ability to revisit them and make them safe for children and wildlife, without inhibiting any future archaeologists.  It is all a matter of environmental stewardship – if you are happy to help, please contact Kevin, who is co-ordinating the effort with the support of the Community Council.
Share