Our illustration is from David Wilson's Colonsay Map of 1808. Good copies were available at the Post Office and Pantry and readers were challenged to locate and describe any trace of the building in the enclosure, which obviously lies somewhere between The Black Gate and Machrins Farm.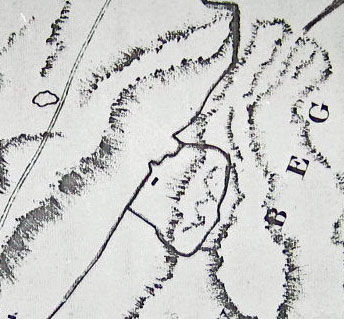 The temporary editor launched an expedition so as to be able to judge the results; after much scrambling about it was confirmed that the initial suspicion was correct – the very distinctive kink in the middle of the north-western boundary wall is readily identifiable on the left-hand side of the road about 150 metres west of The Quarry (recycling depôt).  The mapped boundary is about 1000 yards in length, and essentially contains one large rocky summit and a wedge of "arable" land closer to the road.  The only trace of a house seemed to be a rectangular footing,  the remnant of a building that took advantage of a former sguid site for shelter.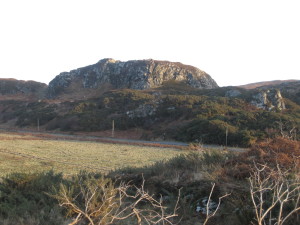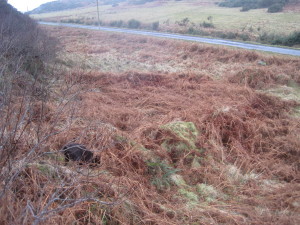 One wonders why such a tiny if coherent holding came to be acknowledged by the map-maker; a possible suggestion is that it was provided for the Catechist, a local person who acted as a Lay-minister on behalf of the Jura-based Minister.  The official glebe was very close at hand and very possibly the Catechist was able to rent it from the Minister to supplement his holding.
The  challenge ran as follows:  A "D" shaped enclosure is shewn to the south of the road and midway between the east and west coasts, on "Machry Beg", and within that enclosure a building is marked.  Can you find any trace of that building? A photograph and accurate GPS reference would be good, together with a description. We offer a £10 Book Token redeemable at Colonsay Bookshop for the best submission, which we hope to publish in the January edition.  As far as is known, no previous attempt has been made to locate this site.
There was only one response, so the prize goes to Alastair Scouller.  He entered from elsewhere, so did not check it out on the ground:  "Re your 'poser' in the new Corncrake: this must be very near the present road, at the Machrins S-bends.  I think this is certainly the chapel of Cille Bhride (Loder, p.76 and map), presumably with its burial ground. Loder says: 'The last traces were removed by the farmer in 1881', and also states (p.164) that the shaft of a cross taken from the cemetery (aha!) is the stone known as the Ballan Stiallach near Machrins Farmhouse."
Details of the next competition will be found in the Magazine Section.
Share