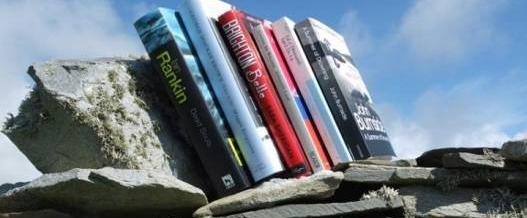 Organisers of the Colonsay Book Festival today announced the line-up of authors for the fourth annual Hebridean literary celebration, for 25 and 26 April 2015.  This year's programme stars celebrated Scottish crime writer and screenwriter Lin Anderson, roofer-turned-poet William Letford, cookery writer Mary Contini, novelist Sara Maitland, nature writer and poet Jim Crumley and award-winning author James Buchan, grandson of The 39 Steps writer John Buchan.
In addition, acclaimed composer and musician Mike Vass will provide entertainment of a musical and literary flavour on Saturday 25 April, in the Colonsay Village Hall. Joined by some of Scotland's finest musicians, his In the Wake of Neil Gunn suite celebrates Scotland's coastal communities, the inspirational joy of sailing, and Neil Gunn's outstanding contribution to Scottish literature. The supporters of Mike Vass have included CalMac and House of Lochar – publishers of Neil Gunn's "Off in a Boat", now on sale at the bookshop.
Dilly Emslie, Director of the Colonsay Book Festival, said: "With less than three months to go, excitement is building ahead of the fourth instalment of the Colonsay Book Festival. Yet again, we've lined up a fantastic programme with something for everyone to enjoy. On behalf of all the organisers, we can't wait to welcome our visitors and authors to Colonsay in April. Tickets are on sale now, with a special early bird rate available until 14 February. You can keep up to date with all our news on our website and via Twitter and Facebook."
Conceived and produced entirely by the island's residents, the Colonsay Book Festival has carved its own niche in Scotland's busy book festival calendar since launching in 2012.  Many of Scotland's best loved writers and poets have now made the journey by ferry to experience Colonsay's literary celebrations, with audiences flocking from all over the world to join them.
Ian Rankin, whose Colonsay Book Festival appearance in 2013 coincided with his birthday, summed up the event's appeal. He said: 'It is no mystery – take a wonderful island, add readers and writers, sprinkle the whole with outstandingly good organisation … and a magical festival results!!"  Last year's event featured Val McDermid, Jackie Kay, Andrew Greig, Christopher Brookmyre, Lesley Glaister and Patrick Richardson.
2015 Colonsay Book Festival tickets are on sale from www.colonsaybookfestival.org.uk
Lin Anderson: Tartan Noir crime writer, Lin is the acclaimed author of nine Rhona MacLeod novels, her protagonist being a Glasgow forensic scientist. The latest is Paths of the Dead (2014), and the books are currently being developed for TV. She has also begun a series set in Cannes featuring the private detective Patrick de Courvoisier. Lin is also a screenwriter, of Small Love and River Child, which won a BAFTA Scotland award in 2008. Her passion for the film Braveheart led her to publish a non-fiction work on the Braveheart phenomenon in 2005. When not writing, Lin is chair of the Society of Authors in Scotland, the co-founder – with Alex Gray – of Bloody Scotland, Scotland's first annual crime-writing festival, and a member of the Femmes Fatales crime-writing trio with Alex Gray and Alanna Knight.
James Buchan: James Buchan, the grandson of the Scottish novelist and diplomat John Buchan, began his writing career as a journalist, covering the Middle East, Germany and the United States. His first novel, A Parish of Rich Women (1984), won the Whitbread Book of the Year Award and the Betty Trask Award, and Heart's Journey in Winter (1995) won the Guardian Fiction Prize. He has published eight novels, and several works of non-fiction, including Frozen Desire: An Inquiry into the Meaning of Money (1997), Capital of the Mind: How Edinburgh Changed the World (2003), Adam Smith and the Pursuit of Liberty (2006). His most recent book, Days of God: the Revolution in Iran and its Consequences, was published in 2012.  James will be discussing the 18th century Scots financier, John Law.
Jim Crumley: A nature writer and poet, Jim has over 20 books to his name, mostly on the landscape and wildlife of Scotland. He is also a presenter of radio programmes and a journalist, publishing a weekly column in The Courier and a monthly feature in The Scots Magazine. Among his many books are The Winter Whale (2008), on the true story of the hump-backed whale made famous by William McGonigall, The Last Wolf (2010) and The Great Wood (2011), which examines whether the ancient forest of Caledon might be recreated as a national forest.  Jim will be reading from and discussing The Eagle's Way (2014), which looks at the reintroduction of sea eagles and their interaction both with golden eagles and the Scottish landscape, and two monographs from his new Encounters in the Wild series, Barn Owl and Fox (both 2014).
Sara Maitland:  In her long and varied writing career, Sara has written works of fiction and non-fiction, her favourite genre being short stories. Her deeply held religious beliefs inform much of her work; she writes about women and 'the entangled emotions of terror and beauty', and draws greatly on the old traditions of fairy stories, myths and folk tales. Her first novel, Daughter of Jerusalem, won the Somerset Maugham award in 1978. Her short story collections include On Becoming a Fairy Godmother (2003) and Far North and Other Dark Tales (2008). Her non-fiction titles include Very Heaven: women's lives in the 1960s (1988), Gardens of Illusion (2000), A Book of Silence (2009) and Gossip from the Forest (2012), which explores the idea that fairy stories come out of forests, and rewrites twelve traditional tales collected by the Grimm brothers. Sara will be discussing her latest collection, Moss Witch and other stories (2013), hybrid tales which fuse elements of scientific theory with ancient myth, folklore and contemporary story-telling. Each story, inspired by cutting-edge research, arose out of conversations with scientists, and each is accompanied by an after-word specially written by these consulting scientists.
Mary Contini:  A director of Valvona and Crolla, the renowned Edinburgh restaurant, delicatessen and cookery school, Mary is the best-selling author of several books about Italian life and cooking, including Dear Francesca, Dear Olivia and Valvona and Crolla: A Year at an Italian Table (2009). She has written three cookery books for children: Easy Peasy (with Pru Irvine), Easy Peasy Baking and Easy Peasy Sweetie Pie. Her latest publication is The Italian Sausage Bible (2012), which describes the range of different regional sausages; as she says, the sausage is as important to Italians as the haggis is to Scots!  Dear Francesca and Dear Olivia were labours of love: written for her daughters to explain the history of their families and how they came from the mountains of Italy to Edinburgh and East Lothian, they were also an opportunity to pass on family recipes. She is working on a new book which will look at the women in her family, and their belief in the importance and power of food.
William Letford: William Letford is a new voice on the poetry scene. He took an MLitt in Creative Writing at the University of Glasgow, and was subsequently awarded a Scottish Book Trust New Writer's Award, and an Edwin Morgan Travel Bursary, which enabled him to spend three months in the mountains of Northern Italy in 2008, helping to restore a medieval village.A roofer by trade, since the age of 15, his work gives him a particular perspective of life at ground level: "Be prepared: pay attention to the moment and know which way to fall". His first collection of poems, Bevel, was published by Carcanet Press in 2012, and some of his work was also included that year in New Poetries V (Carcanet). A brilliant performer of his own pieces, William 'makes poems from the rhythms of speech and stuff of daily life: work and love, seasons and cities. His writing is alive with the wonder and comedy of the mundane'.
Share