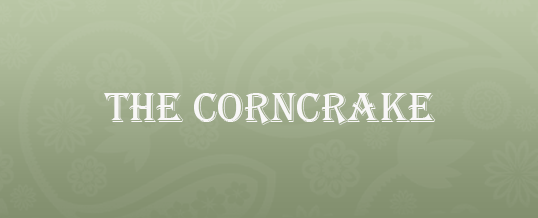 Many of our readers will have noticed that the October edition appeared as usual and on time – and then it disappeared!  The background to the situation is that when The Corncrake was first started (the name being inspired by Dominic Cornford) it was hosted on the Colonsay Community Website and, by chance, that site belonged to the then incarnation of Colonsay Community Development Company.  It was a private initiative and the editor was left to his own devices, as has always been the case; but the site was owned by CCDC and it was agreed that in the event of any significant complaint the relevant issue could be withdrawn or modified without further ado.  Such a situation did arise from time to time and was readily addressed without anybody really noticing.

As it happened, something in the October issue did seem to hit the wrong note with some readers and unfortunately the original simple remedy was no longer to hand – in the past, The Corncrake was produced in html (in the early days, it was actually keyed in entirely by hand, in fact by one finger, truly digital technology), but recent issues had moved to pdf format.  It had been noted that this would lead to a lower profile on the search-engines but nobody had noticed that the entire thing would be set in stone!  What happened next is best described by reference to Deuteronomy Ch.9 v.17 * – very unfortunate, and maladroit to boot.  Unsurprisingly the editor was far from pleased and CCDC is also heavily discomfited. Under the circumstances, one understands that CCDC extends apologies to all concerned  – to the editor for having had to act in such an apparently robust way, and to those readers who could not understand the lengthy delay involved. 

The editor, unsurprisingly, has stepped aside in view of these events and the present issue is a poor stopgap for which one can only apologise.  The underlying technological difficulty has not yet been fully resolved as the basic pdf may still be based upon text which resides on the pc of the editor, who may happen to be unavailable or unable to access it remotely.  So, in the immediate future, a copy of the original text will be accessible on the island and meanwhile suitable software is being obtained to permit normal editing of any future pdf.

The emergency editor joins CCDC and our readers in expressing sincere thanks to David Johnston and Hannah MacAllister for all their work in producing such valuable and comprehensive editions in recent months, and in an expression of great regret that this most unhappy situation has caused so much grief.
*"I seized the two tablets and with my two hands threw them down and broke them before your eyes." NJV
Share