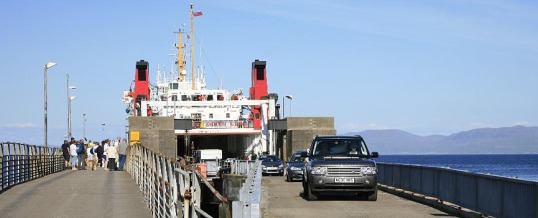 It seems that the ferry timetable for Summer 2015 will be very much the same as in 2014, commencing on 3 April 2015.
The winter timetable is now in operation, and readily available from www.calmac.co.uk  There is a useful facility to obtain a print-out for our route.  Travellers should note that the present service runs until 28 November and a slightly different service runs from 29 November until 2 April.  This is to facilitate the expressed wish of the community to be served by MV "Lord of the Isles" throughout the worst of the winter period; she is currently undergoing annual maintenance and will serve Colonsay as soon as she is restored to service.
The recent mild and rather warm weather has unfortunately been accompanied by some quite windy conditions, resulting in cancellations of the ferry.  In particular, it seems that the Saturday sailings are a bit vulnerable – there is not much anybody can do about it, but intending travellers should consider downloading the CalMac App, which is free and really helpful.  It gives the status of every sailing, and includes a tab for the timetable, just in case you need a reminder.  As for weather, quite a lot of people rely on a free service by Windfinder – search for and select "Colonsay Airfield", rather than plain "Colonsay".  At least one person got a dreadful shock with a forecast of 6ft snow and minus 20 temperature, then realised he was looking at Colonsay Saskatchewan.
Share