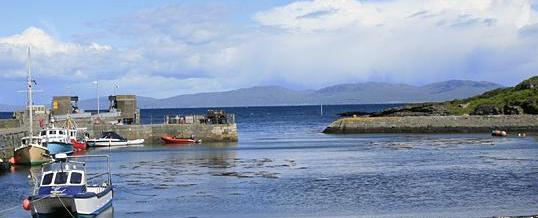 CHUG met recently with CalMac and looks forward to meeting with Marine Harvest as newcomers to the harbour later this year.  Details were circulated to members who missed the meeting, and we publish here just a few salient points:
1. It was noted that an AIS mast has been fitted at Colonsay, so that the remote Harbour Master (and CHUG members) can monitor vessels in the Colonsay vicinity.
2. In the event of any problems, CHUG members should communicate with Colonsay Port staff, Matthew "Cammie" Cameron P.S., otherwise via Harbours Team at HQ, Gourock.
3. Any incidents are to be reported, for data not for blame – a Harbour Incident Report Form is available in the office.  A dedicated website is in preparation and CHUG members will in future be able to access forms, directions, NTMs etc. on that site.
4. Arising from discussion, it was felt that two main hazards exist locally: a) craft often enter or leave the harbour, or pass the pier head, at an inappropriate speed causing potential personal danger to possible swimmers, risk of collision with unseen craft, and personal danger due to wash affecting small craft or children on the slipway.  b) craft often choose to approach or leave the slipway whilst a ferry is approaching or departing the pier, despite the fact that ferries are scheduled and in any case can be seen from miles away.
5. In light of the points raised, a Notice to Mariners is to be issued, regulating speed and behaviour within the immediate harbour area; the harbour area extends to 1000 metres radius but the regulation will be restricted to the relevant zone.
6. Notices to Mariners of local interest are posted on the Notice Board at the terminal.
7. An entirely new lighting system is to be provided for the pier and linkspan.
8. CMAL are to be approached by Cameron MacPhail (CalMac) to explore possible improvements as a) provision of soft fendering and access ladders along the harbour wall; b) provision of (say) ten points for summer-time running moorings to permit small craft to be secured and accessed from the inner harbour shingle hard.
Share