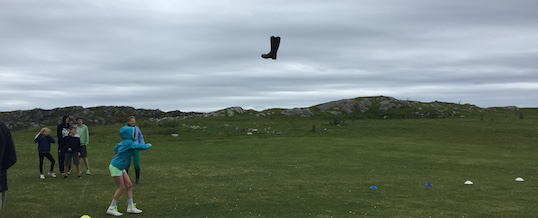 Sports Day buzz got off to a great start with a '4th of July' fundraising ceilidh, celebrating all things American. Gavin and the Pantry team served classic Stateside fare which fuelled a long night of enthusiastic dancing. An unusual and well-attended start to the ceilidh season which raised almost £300 to go towards the community sports.
The day itself arrived on the 8st August, the wind just holding off and by 11am there were already more than enough children to kick off with old favourites such as the egg and spoon race and the sack races (it should be noted that the sacks used were kindly lent by the Primary School and as such were a tad small on the adults – the organisational team apologised but found it quite amusing to watch). These were followed by sprints and adult races, and then the 'heavies'; shot-put and Toss the Welly a.k.a Welly Wanging.
The afternoon finished with the tug-o-war, the hill race – from the airstrip to the Ardskenish green and back and featuring some stellar performances from the young locals – and once the rain closed in the kids (and some non-kids) took turns whacking the piñata in the immovable marquee.
Share