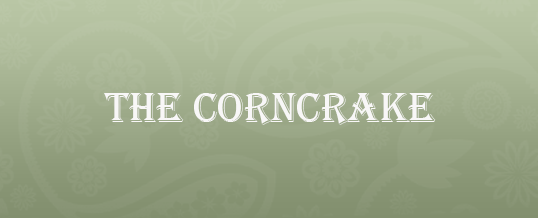 NEW YEAR RESOLUTION – AND A QUIZ!
The recent successes by such persons as the Pope and the Archbishop of Canterbury are a reminder that ours is nominally at least a Christian society, and that there are aspects of our great Christian tradition of which we can be proud.  Many people no longer choose to participate in "organised" religion, but a passing acquaintance with the basics of a 1,500 year old tradition is not to be sneezed at.  References occur in daily life – in literature, music, art and of course the ubiquitous pub quiz.   Almost everyone has vaguely intended to catch up on the bible, so here is your chance. 
As an entirely intellectual exercise (no religious agenda) The Corncrake is starting an experimental series.  Each month, a book of the bible is to be mentioned, readers then have a whole month to dig it out and refresh their memory and at the end of the month there is to be a simple quiz.  Competitors are trusted NOT to go online for the answers but can, of course, refer to the original text.  The two winners will be selected in a random way; if resident in Colonsay the adult prize will be a bottle of wine from the shop, and if resident elsewhere it will be a book about Colonsay.  For under 16s there will be a £5.00 voucher of the folding variety.
Logically enough, the title chosen for January is Genesis, describing the "origins" of the world as conceived about 500 B.C.  There is a good Wikipedia introduction under "Book of Genesis" for background reference (but be specific or you will get the band instead).  To enter the competition, just r
ead the actual text in January (it is not very long) and be ready for the quiz in our February edition!  Details of how to enter will appear then.
FROM THE "OBAN TIMES" 12th September 1868
COLONSAY & ORONSAY. Boat Races—These annual races came off to-day at Scallasaig. There was a large number of the male population mustered to view the sight, but as it was a fine harvest as well as sailing day a large proportion the "beauty and fashion" of the island had to remain at home. We observed among the spectators A. Macneill. Esq.;  John Macneill Esq.;  Mrs and Misses Macneill, Kiloran;  Colonel Macneill. ;  Miss Campbell, North Knapdale, etc.  The prizes were liberal and the competition keen.  There was this year observable a marked improvement in the outfit and handling of the sailing boats, while the rowing, which does not seem popular, barely attained the standard of former years.  Particulars of the races, together with the names of the owners of the winning boats, follow :
For Sailing Boats, lugger-rigged. Nine boats started at 1.40 p.m., and passed the winning buoy
1. Maid of Oronsay. Colonel Macneill 2.10 pm.
2. Rebecca. John Macneill Esq. 2.48 pm.
3. Gypsy. Mr. Campbell, Kilchattan 2.49 pm. 
4. Lively. Mr Maclean, Riskbuie
For Jolly Boats, 4 Oars, under 20 feet
1. Barge. A.Macneill Esq.
2. Hornet. John Maclellan, Scallasaig
3. Albert.  Neil Macmillan, Scallasaig
FULL TEXT OF COLONSAY COMMUNITY DEVELOPMENT COMPANY CIRCULAR
Update on recent developments.
The Directors of Colonsay Community Development Company (CCDC) which includes Colonsay Trading Company (CTC) is making an urgent appeal to all local people to come forward and help run this vital community organisation.  The company is, as many charities often do, going through a period of turmoil and it is at this time more than any other that we require support to bring some stability and assist with the delivery of projects vital to the island and its residents.
The Chair, Treasurer, Company Secretary and two Directors have recently resigned from the board for various reasons and these roles are critical to our governance and continued financial support from HIE.  There are periods when being a Director can be quite time consuming, which poses challenges for those already working in demanding jobs and we hope to work towards a balance of ensuring that the Board roles are not too onerous and that we can better support one another for the greater good and continued survival of our island.
One of the Local Development Officers has also recently tendered her resignation.  This leaves only 4 directors managing all CCDC responsibilities, two of whom are new in the role.  It also leaves the remaining LDO in a challenging situation and may likely have an impact on CCDC's working relationship with the Service point staff – they do essential work on behalf of CCDC and CTC.
Being a Director is an important job and at times challenging.  It does however offer opportunity for learning, professional development and most importantly, it ensures our island gets the critical support through HIE and Government that we need. CCDC is responsible for developing and managing our community assets and businesses through an approach which should be open and inclusive.  Going forward, the remaining Directors are committed to ensuring CCDC and CTC be open and transparent and will, with the support of our partners and the community, strive to put systems in place (taking account of the need for confidentiality where appropriate) to help us achieve that.  To support the Directors of CCDC in strengthening the Board, we are working with HIE to get funding for a business coach to advise and support the company through this difficult period.  This will also help new Directors coming on board to be safe in the knowledge they are able to carry out their roles confidently and in line with best practice.
The core aims of CCDC remain as relevant today as they were when the company was established.  However there are clear priorities which CCDC need to deal with in the short term:
Recruit more Directors, a Company Secretary and appoint a new Chair.
Recruit a Treasurer to work with the board on maintaining accounts and ensuring the supply of coal, gas and fuel.
Finish the crofting project.
Creation of a more open and transparent working ethos for the company.  Even issues that are difficult should not be a barrier to this.  Again taking account of Data Protection and confidentiality where appropriate. (Advice and Guidance from HIE and the dedicated Business Coach will support us in achieving that balance).
Work with the community to establish strategic priorities for CCDC that are needed, wanted and achievable. It will be a case of getting back to basics and starting from there.
The most pressing issue for CCDC is delivering the final stage of the croft project in a manner that protects the community's ownership of the land and at the same time allows the croft tenants to realise their dreams of starting a new way of life on Colonsay.  CCDC appreciate the difficulty of starting a new life on Colonsay so will endeavour to help as much as possible.  However there are a number of issues to deal with at present to achieve a positive outcome for all concerned.  Getting to the stage where the community, crofters and planning department are happy with the outcome must be our main priority.  Being a community body CCDC are required to comply with relevant regulations and law and as such will require the community crofters to do the same.
The appointment of a new Company Secretary, Treasurer and book-keeper is important to CCDC and CTC.  CTC also plays an important part in the lives of local people and along with Colonsay General Store this is mainly down to the hard work of our Directors.  A great deal of backstage work goes on to ensure that we have fuel for our cars and coal on the fire.  The accounting of CCDC is relatively straight forward but is vital if the company is to be able to maintain compliance with the charity regulator OSCR and most importantly continue to supply residents with coal gas and fuel.
The remaining Directors of CCDC see the challenges that have arisen as an opportunity to reset the company but we need more Directors to ensure we comply with our constitutional and community representation obligations.  Ultimately we want to ensure that vital services for the island continue.
There are exciting new projects in the pipeline such as a community wind turbine to generate much needed revenue and a faster broadband project amongst others.  CCDC have also been working hard to create some affordable housing on the island.  So there are positives to look forward to but it needs people to be part of it to make them happen.
If you feel you have something to offer and are interested in having a conversation about joining the company, please contact Acting Chair, Keith Rutherford and come to the next open meeting, 8th January 2015 – where we can discuss the possibilities.  It is vital that Colonsay has a vibrant and effective community body working for the future of the island.  Are you one of the people that can help make this happen?
In addition to the meeting of the 8th January, a General Meeting of CCDC will be planned as soon as practicable to discuss the future of CCDC to which all will be urged to attend.  It will give everyone a chance to have their say.  Before the meeting is arranged CCDC would prefer that the business coach is in place.  This would give much needed guidance at a difficult time and will give the chance to assess community feeling first hand.
Keith Rutherford / Andrew MacGregor / Chris Nisbet / Donald MacAllister Jnr
EULOGY FOR JESSIE McNEILL
" Jessie was born on 4th March 1940, the elder daughter of Roger and Grace McNeill of Machrins Farm; she was, of course, a native Gaelic speaker and,  like her brother Alasdair and her younger sister Mary, Jessie was raised on the farm, went to school at Kilchattan and dearly loved her native island.  It seemed as if Jessie was never especially keen to roam very far, since her heart was in Machrins and there she remained until moving comparatively recently to her new house at Scalasaig.  Yet, although Jessie seldom travelled even as far as Oransay or Balnahard, she was a fount of knowledge about places and traditions.  Of course, much of this will have come naturally, since in Jessie's youth, the school at Kilchattan had many more pupils, usually three dozen or so, latterly under the tutelage of schoolmaster Duncan Mitchell.
"After leaving school Jessie worked mainly on the farm for some years, whilst her aunts Jessie and Jeannie came to give a hand each summer in the household.  As her mother's health declined, Jessie devoted more of her time to looking after her, until her passing in September 1968.  In due course she worked with Peggy and Angus at the hotel, where she took charge of housekeeping.
"Most of us who are here today will have known Jessie in more recent years – my own family came to know her after we arrived at the hotel in 1978, knowing nothing of Colonsay or its special wee challenges.  Jessie immediately and generously took us under her wing and guided us through many a tricky situation; her immense kindness and concern for our young children is a source of happy memories – a loving, uplifting influence.  In those days there were quite a lot of youngsters working at the hotel, frequently from distant parts – Jessie generously mentored them all, helping to shape their maturity and self-esteem; many stayed in touch, and would have wished to be here to pay their respects today.
"Jessie was always at the centre of a devoted circle – her home was the venue for weekly card games, which were a great excuse for every sort of frivolity for the young folk.  Her pancakes and clootie dumplings were the stuff of song and legend – when auctioned after the Annual Show they attracted fierce competition and sold for serious money.  Jessie's Christmas card deliveries saw Keith bent almost double under the heavy load, and her home was also the first port of call for her wide circle of friends and relations back from the mainland.  It was by far the best place to turn to for authentic news from far and wide.  Mind you, although you got "the news", you would never get mere gossip – whatever the circumstances, Jessie would never wish a bad word to be said about anyone.  It was this spirit of generosity and unfailing good nature that made her such a very special person, someone to whom we all could turn if in need of comfort or advice, whether we be young or old.
"Sadly, Jessie was struck by serious illness, a burthen that she accepted and conquered.  Even in retirement, and with great problems of mobility, Jessie continued to play a very active part in the life of the island.  She was consulted about the various social activities being planned, and supported all that she could, and she was a stalwart supporter of the "Tuesday Club", helping to maintain a bond between the primary schoolchildren and an older generation.  Jessie even ran an almost daily one-woman car-sharing operation, ensuring that three or four friends could enjoy some quality time together at the Pantry, to be followed by a particularly sedate circuit of her beloved island, pausing to savour favourite views.  In fact, this was recently the subject of an award-winning video made by Alison's daughter Rachel, and which enjoyed widespread acclaim.
"In recent months, Jessie's health deteriorated and she was hospitalised for a lengthy period.  Her family were there for her throughout, and they wish to pay particular tribute to her sister Mary and her truly devoted care.
"Colonsay is diminished by Jessie's passing, but she has left us all a lasting legacy in happy memories and good example.  On behalf of all friends and neighbours, I offer our deepest sympathy to her loving sister, Mary, to her many nieces, nephews and cousins and to all other members of the family." 
Letters to the Editor:
There aren't any.  Pity. 
By The Way: If you are interested in either Colonsay History or Colonsay Family History, please see www.colonsayhistory.info where you will find links to two relevant occasional newsletters.  They are a private ploy by Kevin Byrne and contributions are very welcome.  There has been a flurry of interest in Bonaveh recently and an article seems to be in gestation – if anybody can add information, photographs or reminiscences please email byrne[at]Colonsay.org.uk
In Conclusion
The Corncrake was started in January 2000 "Created and edited by Kevin Byrne", who edited the first 100 editions.  The first edition stated that it was "Published to keep all our friends in touch with life on the island" and invited contributions from the readership, noting that "Brief genealogical and related queries are also welcome from Colbhasachs overseas, as are obituaries and family traditions relating to Colonsay emigrants."
Coincidentally, the current edition was also produced Kevin Byrne, as a temporary editor, and any comments will be welcomed if addressed to byrne@colonsay.org.uk  As was always the case, the publication is not intended to be completely anodyne, but any errors or omissions are regretted, and anything seriously annoying will if possible be suitably modified.
Share