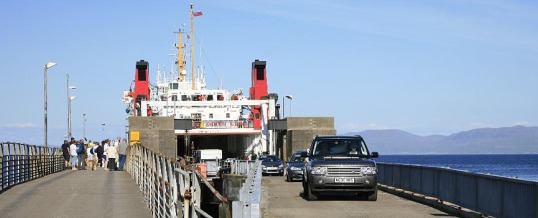 Colonsay Community Council is very concerned about the extraordinary discrepancy concerning freight fares to Colonsay compared with other destinations.  It puts all Colonsay enterprise at an insuperable disadvantage and, innocently enough, CCC thought it might have arisen by mistake.  Perhaps the Scottish Government had not really intended to single out Colonsay to be especially targeted? Either CCC was wrong or the Government needs to sharpen up on its staff selection procedure as regards spokespersons:
Our ref: 2015/008906
18 March 2015
Thank you for your email of 24 February to Derek Mackay MSP, Minister for Transport and Islands, regarding ferry fares for freight on Colonsay. As a Ferries Policy Officer, I have been asked to reply.
You will likely have been passed a copy of my reply of 11 February to John Finnie, however I have attached a copy in case you have not previously been sighted on it.
I understand the concerns you raise about the inconsistency in freight fares between Colonsay and Coll. As you are aware, RET including commercial vehicles was originally piloted on the Western Isles, Coll and Tiree in 2008. Commercial vehicles were not included in the further rollout of RET for passengers, cars, small commercial vehicles and coaches to Islay, Colonsay and Gigha in 2012.
The intention was that commercial vehicle fares on the original pilot routes would be returned to non-RET levels transitionally over 3 years. However, during this time a study showed that the sharp increase in fares was damaging the economies of these islands, [i.e. Western Isles, Coll and Tiree ; clarification by editor]  therefore the decision was taken not to implement the full transition back to non-RET levels.
This decision was taken in the knowledge that Transport Scotland is currently undertaking a full review of freight fares, in order to implement a new overarching freight fares structure in future Scottish Government ferry contracts. One of the key aims of the review is to produce a consistent freight fares structure that does not advantage one part of the network over another.
It is worth noting that Colonsay has had RET for passengers, cars, small commercial vehicles and coaches, and the concessions introduced alongside for lorries carrying hay, livestock and live shellfish, since 2012; having RET and these additional services over the past years, before the roll-out to all Clyde and Hebrides routes this October. It is also worth noting the original pilot islands have not had the Traders Rebate Scheme reinstated, something which is available to other islands.
I appreciate you highlighting the issues that Colonsay face. However, if additional concessions were offered to Colonsay, they would have to be introduced across the entire network. The freight fares review will address the inconsistencies in freight fares, introducing a freight fares structure that is fair and consistent across the network.
Yours sincerely
Carol Nowbaveh
A neat non sequitor but it will not wash.  Exactly why would additional concessions have to be introduced across the entire network?  Clearly they have no problem providing specific disadvantages targeted upon one island, so why should concessions be any different?  They left Colonsay for FOUR years without RET, and then introduced it without any Commercial Vehicle element, but continued the CV element on a slowly reducing scale to our competitors.  The Scottish Government needs a better excuse or a more gifted spokesperson. Urgently.  Before May 7th.
Share