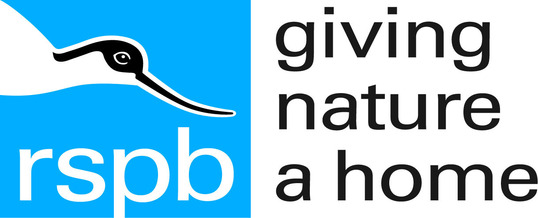 The month of June has not felt particularly like summer, with strong Northerly winds and rain producing an almost autumnal feel to life. However, this has been interspersed with some calm and sunny days to remind us all that it is indeed summer.
Butterflies including small tortoiseshell, red admiral, small heath, small copper and the stunning marsh fritillary have been adding a splash of colour to life as they flutter by on warm sunny days. On the 23rd we made the most of a rare calm warm evening and put the moth trap out.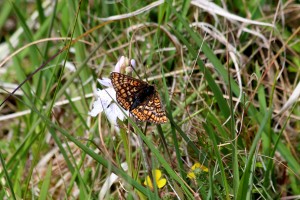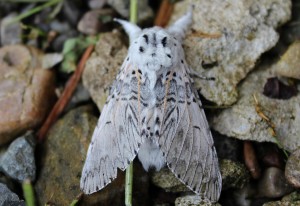 A total of 66 moths were caught, with 22 species being recorded. The most striking of these species included 2 puss moth, 2 clouded drab and 2 true lovers knot.
The puss moth acquires its name from the adult moths fluffy white cat-like appearance. As a caterpillar this species feeds on aspen, poplar and willow trees. The striking adult moth occurs from May to July and can often be found at rest by day on willow trees and sometimes even fence posts.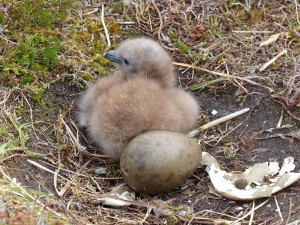 The month of June is typically associated with the arrival of newly fledged birds and this has been the case all over the reserve. There are lapwing, oystercatcher and redshank chicks being seen throughout the marshes, with meadow pipit, pied wagtail and wren fledglings being spotted around human dwellings, whilst on the 19th 12 Eider ducklings were spotted close in to shore. This year has been the first year on record that blue tits have bred on Oronsay, with 8 chicks hatching inside a nest box which was put in place during national nest box week (14th 21st February) this year. Furthermore, this is the first year on record where great skuas have been successful in hatching, with there being 1 chick and 1 egg present in the nest on the 29th June.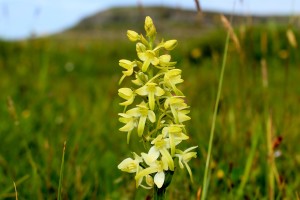 There has been a steady increase in the flora on show across the islands, with orchids including early marsh, northern marsh, common spotted and lesser butterfly now in full bloom. The orchids are accompanied by other flora such as red clover, red campion, yellow rattle, oxeye daisy and ragged robin. This has added a real beauty, colour and wonderful aroma to the floristically rich wild flower meadows which are an important resource for insects including bees, butterflies and moths.
What to look out for in July
Warmer temperatures will see the emergence of more butterflies, including species such as dark green fritillary, common blue and meadow brown. There are still more chicks to hatch and young to fledge, so keep your ears and eyes open as you never know what you may hear and see.
Luke, Assistant warden Oronsay Reserve
luke.wake@rspb.org.uk
RSPB office – 01951 200 367
Share