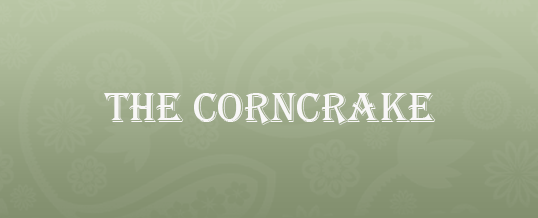 Letters etc.
No letters this time and not a lot of feedback from our last issue, but the few comments received were fortunately very positive.  Nobody entered the "10 easy questions about Genesis" competition so there are no prizes and the competition is to be abandoned.  An ongoing study of Bonaveh is nearing publication and if anybody has photographs or information they will be very welcome – details are still a bit light on the Galbraith period, the connection with Tobar Odhran and the days of Renee Hunter's tenancy.  Anybody who is interested is welcome to read a draft copy of the essay in case they can add or correct any detail.  When it is completed it will be published online, but it would be nice to have some good pictures and as few errors as possible.  Contact byrne@colonsay.org.uk
In Conclusion
The Corncrake is published to keep all our friends in touch with life on the island and invites contributions.  Brief genealogical and related queries are also welcome from Colbhasachs overseas, as are obituaries and family traditions relating to Colonsay emigrants.  The current edition was  produced Kevin Byrne, as a temporary editor, and any comments will be welcomed if addressed to byrne@colonsay.org.uk  As usual, it is not intended to be completely anodyne, but any errors or omissions are regretted, and anything seriously annoying will if possible be suitably modified.
Please note that we are still looking for a new editor – any candidate should contact any member of the CCDC Board (which happens to own the publication and to be the ultimate governor).
Also – please keep an eye on both Colonsay Kindred and Colonsay History, two little newsletters run by Kevin Byrne; access them via www.colonsayhistory.info
Share