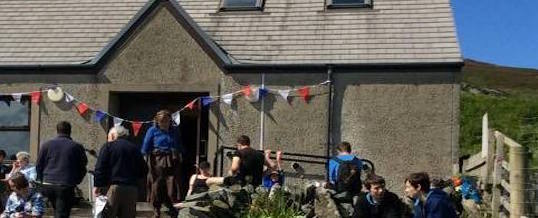 Colonsay Village Hall
The Hall committee held its A.G.M on 9th January. The committee is unchanged apart from the resignation of Esme Marshal. Esme has been a great supporter of the hall over the last 10 years or so and will be much missed. Global warming resulting in ever higher tides and ever windier gales with ever more bizarre names has made travel to and from meetings increasingly difficult. We will miss her humour and common sense at our monthly meetings.
Cooking up a Storm.
We were very lucky to attract four new members in 2015 and one of these, Sarah Hobhouse, was successful with a grant approach to Awards for All (Lottery funding) on our behalf. The award of £10 000 will be used to refurbish the kitchen to make it more suitable for catered events. There will be a six ring gas cooker, stainless steel preparation areas, commercial dishwasher as well as new crockery and utensils. New fridges and a warming cupboard should complete the transformation. We are hoping to have the kitchen ready to go for the end of March. Christa Byrne, another new recruit, has been using her insider knowledge of the trade to source the equipment and we have had very reasonable quotes.
The hall is now sixteen years old and there are a few maintenance issues outstanding. Some of the lights have given up the unequal struggle and there is an ongoing problem with water penetration through the roof; fortunately only during gales, unfortunately that has been most of the winter! It is hoped to make a concerted effort to solve all the outstanding issues over the next year. Details of availability, charges and general information about the hall can be found on our clockwork website here.
Planning a Wedding?
We are delighted to listen to any enquiries and give our advice, and put you in touch with local caterers and musicians. Colonsay is a unique and very special Island and we would love to welcome you and share it with you for your wedding.
Donald MacNeill       Chair.
Share