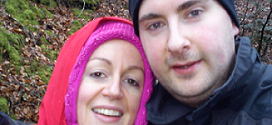 Each month the Corncrake invites someone with Colonsay connections to give us an insight into who they are and why they're here.
This month it's community nurse Michelle Cameron
How long have you lived on Colonsay?
I have been on Colonsay for 9 months
What brought you here in the first place?
An exciting job opportunity brought me to Colonsay
Why have you stayed here?
I've not had time to go yet!
Colonsay is regarded by many of its residents and visitors as a very special place. What makes the island special to you?
The diversity of the island and wildlife make it special to me
Is there anything that you feel needs changed on the island?
Yes – More visits from the Screen Machine
Is there anything that you think needs special protection?
I think it's wonderful that the bees are now protected
What is your favourite place on the island?
The view coming over the hill going down towards Glassard
Share a special Colonsay memory with the Corncrake.
A special memory would be our first Colonsay Burn's night!
If you were the absolute ruler of Colonsay what one law would you pass above all others?
Everyone would have to have a boat.
Thanks Michelle – who is next – send us a suggestion – or make an offer – we want to hear from you – contact details at the end
Share