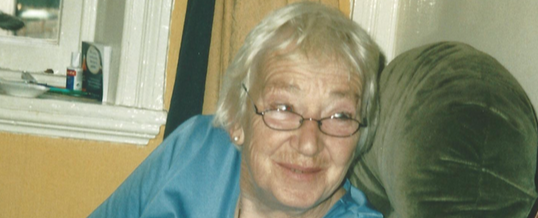 Patricia (Paddy) Nicolson Leahy
12th September 1934 – 27th July 2015
Paddy was born in Danes Drive, Glasgow on the 12th September 1934, the third of four children to Herbert and Rachel Leahy.
In around 1941, during the Second World War Paddy was evacuated to Colonsay where some of the family stayed at No 5 Glassard and she started school on Colonsay – a long association and love for the island of her forebears.
On return to Glasgow her schooling continued at Glasgow High School for Girls then Glasgow Vet School, graduating in 1957, one of only 6 girls in her class. There then followed various jobs including a year in Australia before returning, first to Newcastle then moving home to the west of Scotland to work for the practice in Paisley where she would stay until her retirement in 1992.
Throughout all her travels she always returned to Colonsay and especially Milbuie which the family had initially been renting and then, when the chance came, she bought it for the family's use.
After retirement Paddy continued travelling and spending time with her animals and of course staying in Colonsay.  
Latterly, ill health meant her visits became less frequent until she had to move to Clarence Court Care Home where she passed away peacefully in the early hours of 27th July 2015.  
Paddy will be missed by those who knew and loved her and the family would like to thank all those who have extended their sympathies at this time.
Alasdair Carswell
Patricia (Paddy) Leahy
1934 – 2015
Paddy's door at Milbuie was never closed, she was one of the world's sociable people.  There are many memories of drinks, meals and parties with stories to be shared, laughs to be had and a welcoming that only Paddy could give.
Paddy was born in Glasgow, the third child of four children to Herbert and Rachael (nee. Nicolson).  You will find Paddy's name on the old school register at Kilchattan – during the war Paddy, her older sister Kathleen, her younger brother John and her mother Rachael evacuated to Colonsay, staying at 5 Glassard. (Her father and older brother Alan, stayed in Glasgow)
After the war the family returned to Glasgow, where Paddy completed her education and trained as a vet.  I remember Paddy telling me that after she had qualified she thought to herself; I've been in Glasgow or on Colonsay all my life, I need to see somewhere different.  She bought herself a passage to Australia and worked as a vet over there for a year or so, before coming back to Glasgow via  a veterinary job in Newcastle-upon-Tyne.  Within a few short years Paddy settled at a veterinarian practice in Paisley, her partnership there lasted until her retirement.
Paddy would come to Colonsay whenever she could and would always be happy to help with all creatures great and small (she was after all a wise and wonderful lady).  Paddy was never without pets of her own, there would nearly always be dogs and a cat in the car with her when travelling to and from Colonsay.  And for a long while she bred and showed Clydesdales, keeping the horses on a clients farm in Renfrewshire.
Paddy never married, she had strong family ties with her sister, brothers, nieces and nephews.  Her friends were very important to her and the term 'ladies that lunch' reminds me very much of her.
Those that knew Paddy will have their own memories of her and those who met her because their animal needed treating will remember her as knowledgeable, no nonsense, but kind.
Aunty Paddy – I'll raise a glass of Chardonnay to you and know that my life is the better for having known and loved you.
Lotta, Milbuie.
Share