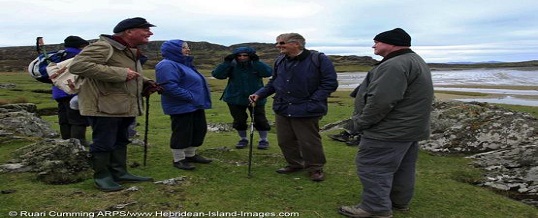 The annual Colonsay Spring Festival, which finished Mid May – saw large numbers of locals and visitors alike getting up close and personal with the Island flora and fauna, and much more.
Walks, talks and rambles saw a host of experts showing off Colonsay's Hebridean highlights to appreciative audiences. Many people new to Colonsay expressed amazement at the huge range of plant and animal life waiting to be discovered.
In addition to nature there were classes in baking, cooking, foraging for wild food, history talks and archaeology.
Spring Festival Organiser Sarah Hobhouse said: "This year's event has been another great success thanks to the huge support we have had from a host of local and visiting speakers and session leaders who enthralled with their knowledge and passion for their subjects.
"Even the sun came on board for a lot of the three weeks and there was a chance to see the island at its very best, coming to life after the winter with the corncrakes, cuckoos and other birds returning to our shores, and the wildflowers creating their beguiling patchwork across so much of our landscape.
"I want to give most sincere thanks to all who made this unique event possible and we hope to see as many of you as possible back next year."
The festival is run by Sarah with help from members of the Colonsay Tourism marketing Group – which also puts on the late autumn Connect with Colonsay event which this year runs from October 11-31
Share